Croatian Museum of Natural History in cooperation with the Šibenik City Museum LIFE – Euroturtles workshops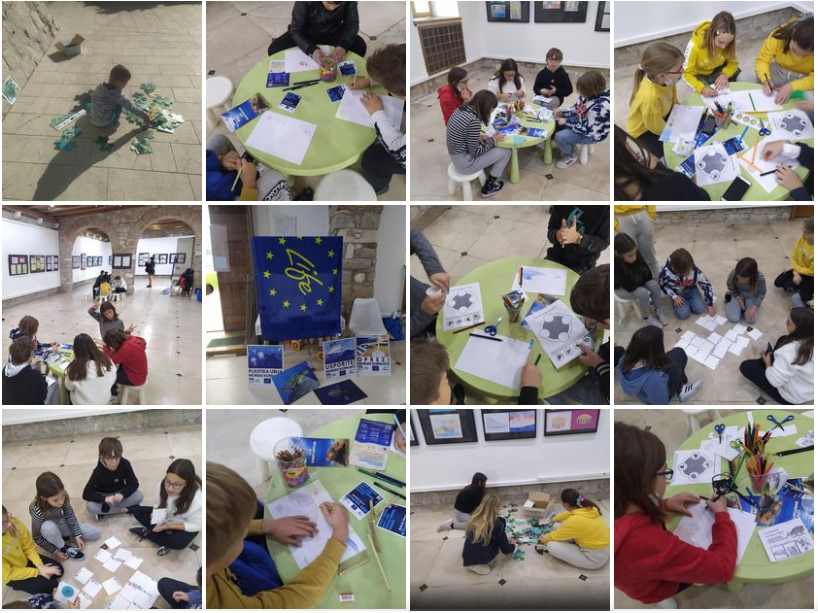 All workshops were held according to the epidemiological measures and the recommendations of the National Covid Committee. The workshops were held in the spacious atrium of the Šibenik City Museum and outdoors in front of the museum. A total of 94 children participated.
The workshops consisted of an introductory lecture and practical work (worksheets, drawing, cutting, playing games – memory, puzzle etc.). The aim of the workshop is to inform and educate children about sea turtles life, their biology and need for their protection. We gave them also some stickers and other promotional project material to promote the project itself and the idea of nature protection. As the topic of the workshop aroused interest, this cooperation for sure will continue in the future.
Workshop leader: Ivana Vučinović, museum pedagogue of the Šibenik City Museum
Workshop Supervisor: Renata Brezinščak, museum education advisor, educator of the LIFE -Euroturtles project
The workshop was attended by students of the 3.a class of the Catholic Primary School Šibenik (19), students of the 2.a (15) and 5.a classes of the Elementary School Faust Vrančić (20), children from Kindergarten Građa paviljon (20) and Građa stari dio (20).