Outreach initiatives in Italy: more then 600 people involved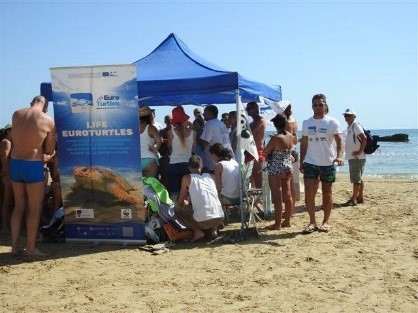 During 2019 summer, 18 public initiatives were realized – 10 of these initiatives took place in Policoro and included the release of turtles rehabilitated in the Policoro rescue center. Other initiatives were held in Calabria (Rossano Calabro), Puglia ( Manduria, Avetrana) and Sicily (Torre Salsa, Siculiana, and Mazara del Vallo). Awareness activities were also carried out close to turtle nests, where educational panels were placed, and on social network platforms.
Such activities greatly contributed to increase citizens' and tourists' awareness on sea turtles, both on their threats and conservation issues. The outreach activities were so effective that, in several cases, the tourists themselves alerted the WWF operators of sea turtle traces or nests along the beaches.